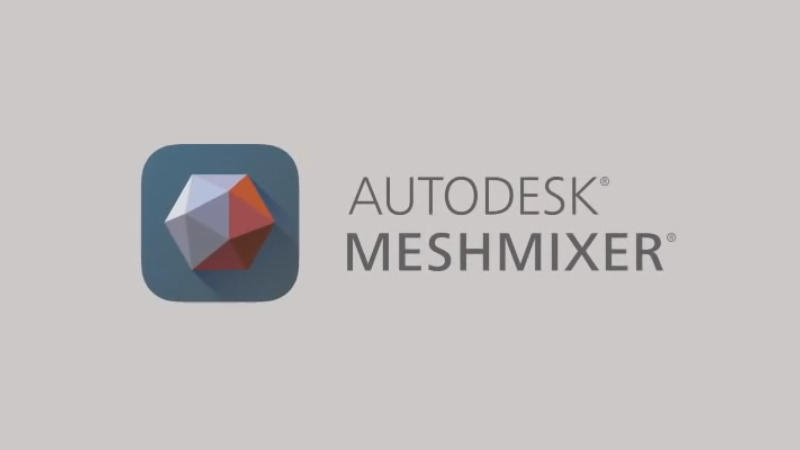 The application Meshmixer, which can be used to edit 3D nets, is now available as App in Autodesk 123D Suite.
October 2, 2013 – The application Meshmixer has been existing for a while and can now also be used as an application in the second updated version in Autodesk's 123D Suite. Meshmixer 2 is currently part of the "Experimental Sandbox" and is highly suitable to manipulate and merge 3D nets, to clear 3D scans and to smoothen surfaces.
February 20, 2014 – New Meshmixer Version 2.1 features additional 3D printing function.
The latest version of Autodesk's Meshmixer features a convenient function for 3D printing. You can now view and analyse the models on the printing surface in a preview function. An integrated repair function automatically seals any leaking spots. In addition the "Wall Thickness" function helps saving material on the inside of the model.
Version 2.1 of Meshmixer is available for free for Windows and Mac.
April 28, 2014 – New Meshmixer Version 2.3
Most of the 3D printer which haven't been supported so far are now featured by the latest version of Autodesk Meshmixer.
Further details:
New add/edit custom printer so you can prep your 3D prints for any 3D printer
New Make Slices tool: Slice an object into a number flat slices. Two techniques: Stacked or Stacked3D
New drag/drop solid objects in addition to parts. Addition of primitives category
Added part categories to the Meshmix panel to accommodate growing libraries of parts and solids
New Separate Shells tool to separate combined but separate geometry into separate objects
Better naming of newly created objects from duplicate, separate, etc…
PLY binary format support (which is handy for importing the per-vertex color meshes coming in from depth cameras)
3Dconnexion space mouse support
Lots of bug-fixes and stability improvements
The update allows for following complex two-componet prints:
May 21, 2015 – Update: Meshmixer version 2.9 released
With the release of Meshmixer version 2.9, Autodesk introduces some exciting new features.
The Transform tool now allows for precise input of position, rotation and sizing. You can enter the exact location and orientation you want your objects to be. The new Pivot tool allows you to designate a point on the surface of an object and scale it around this point. Also, you can drag one pivot to another and snap the attached object.

Summary of what's new in Meshmixer 2.9:
Updated most Tools to properly handle Texture Maps
New Pivots objects for simplifying precise positioning
New Create Pivot tool to place Pivots in many different ways
Existing Tools now snap to Pivots when possible
Updated Transform tool with precise input of translate/rotate/sizing
Transform tool can use a Pivot as arbitrary center-of-rotation
Rewritten Align tool with many new alignment modes
Fast Pivot-to-Pivot interaction to rapidly position objects
Rewritten Remesh tool with new remeshing modes
New Adaptivity setting in brush tools
Improved support for multi-user installations
Improved stability, particularly startup crashes, network-related crashes, and GPU issues
Support for Anti-Aliased Rendering in Preferences (disabled by default)
August 27, 2015: Update – Meshmixer 2.9.2 supports colour 3D printing
The latest version of Meshmixer now also supports colour 3D printing. Additionally, the new TinkerPlay part libraries enables users to combine characters with 3D models.
Updates for Version 2.9.2
New Tinkerplay part library
Make Solid can now bake uv/vertex colors to vertex colors of new mesh
New region-growing capability in Selection tool
Pivot improvements (.mix import, duplicating linked pivots, new Create modes)
Many bugfixes! (texture support, vertex color painting, remeshing, …)
Version 2.9.2 is available for free download.
January 26, 2016: Update – Meshmixer Version 3.0 Introduces Multi-Material 3D Printing
Meshmixer 3.0 comes with a variety of new features and improvements, with probably multi-material 3D printing the most interesting one. Additionally, the new Unwrap tool allows makers to unwrap the 3D geometry of their designs and flatten it out for laser cutting or CNC milling.
Check out the video below to see some of the highlights of the latest version:
new Complex objects that contain internal partitions (beta!). Complexes make it easy to design for multi-material 3D printing.
Generate Complex tool to create a Complex from face groups
Split Complex decomposes a Complex into separate solid shells
new Export mode that automatically decomposes Complex on write
new Align to Target tool to automatically align meshes in 3D
new Unwrap tool flattens surface patches
new SVG Export can export meshes as SVG (edges, colors, etc). Try it with Unwrap!
new Mesh Query tool for visualizing mesh properties
new measurement-based scene scaling workflow in Units/Dimensions tool
new Select Intersecting action in Select tool (double-click on other scene objects)
new Preserve Group Borders and Project To Target options in Smooth Boundary
… and many more. To check out the full list of improvements and new tools as well as to download Meshmixer 3.0 click here.