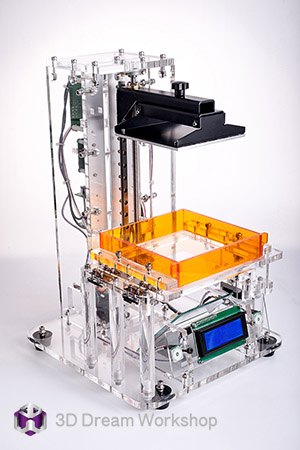 As 3D printers have been there, people build them for themselves or use DIY-kits. But one type of printer is missing most of the time: an SLA DIY 3D printer. Now, 3D Dream Workshop wants to change this.
The Funplay DIY is a 3D printer developed by the Taiwanese manufacturer 3D Dream Workshop. If you buy such a printer you have to assemble it yourself and while doing this, you will learn a lot about how your printer works and which problems might occur. While most SLA printers are limited to proprietary resin, the Funplay should be compatible with almost any available resin. It is even possible to give your resin some colour with a palette of pigment colours.
But to use different resin types they needed to develop a special technique for controlling their light source: The strength (0 to 100mW) and the length (5 to 45µs) of the light pulses are controllable. The printer is very compact, its size is 31 x 31 x 45cm and the print area is 125 x 125 x 150mm. There are three options for the layer height: 25, 50 or 100 microns.
Until now it is not known when the Funplay DIY will be available on Indiegog. The price for the Funplay DIY Crystal (consists mainly out of transparent acrylic glass) will start around 799$, for a price slightly higher you will get a set of the DIY printer and different pigment colours.
---
Subscribe to our Newsletter
3DPResso is a weekly newsletter that links to the most exciting global stories from the 3D printing and additive manufacturing industry.