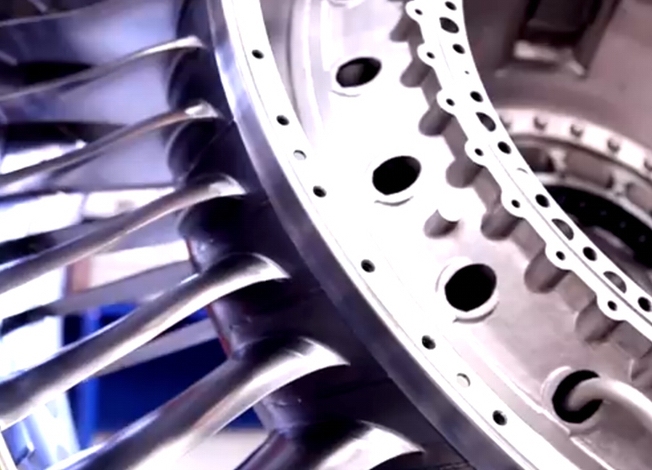 Aero-engine manufacturer Rolls-Royce has teamed up with the Department of Materials Science and Engineering at the University of Sheffield to construct the largest ever 3D printed engine component.
March 12th 2015 – The 1.5 meter diameter titanium front bearing housing holding 48 aerofoils was manufactured using Electron Beam Melting (EBM) technology by the Swedish 3D printer manufacturer Arcam. Thereby an electron beam melts and fuses metal powder layer by layer in a high vacuum. The 3D printed component will be part of Rolls-Royce's Trent XWB-97 engine.
Professor Ian todd, Director of the Mercury Centre at the University of Sheffield explains:"This is a great example of how a University department such as the Department of Materials Science and Engineering here at Sheffield can work with industrial partners like Rolls Royce and the HVM Catapult Centres to translate our ground-breaking early stage research to industrial practice."
According to the report of Mercury Centre an Airbus A380 containing the XWB-97 engine featuring the 3D printed component will take off later this year.
January 20th 2016 – Update: Rolls-Royce completes first test flight
In early November an Airbus A380 with one of its Trent 900 engines replaced by a Trent XWB-97 successfully landed, after a test flight in Toulouse, France. It marked the first test flight for the XWB-97 engine with the largest additive manufactured aero engine structure, the 1.5 meter diameter titanium front bearing housing.
Gareth Davies, Rolls-Royce, Trent XWB Programme Director, said:
"It's a great moment to see the latest version of the Trent XWB take to the air for the first time. Today's flight is the product of years of work and marks another programme delivery milestone."
The XWB-97 is the biggest, most powerful version from Rolls-Royce Trent engines and jet, as the manufacturer claims, the world´s most efficient large aero engine.
---
Subscribe to our Newsletter
3DPResso is a weekly newsletter that links to the most exciting global stories from the 3D printing and additive manufacturing industry.