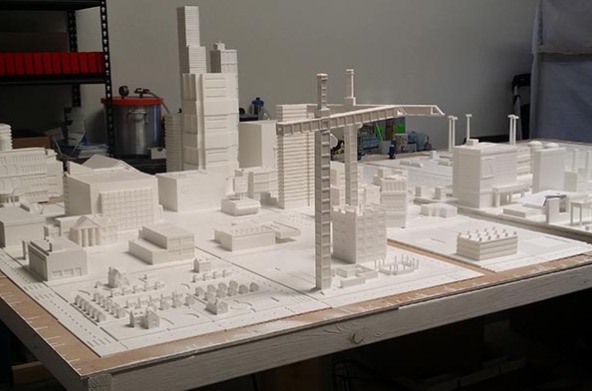 San Diego-based 3D printing, scanning and design service SD3D has collaborated with risk management and insurance corporation Aon to create what they claim is the largest 3D printed city.
Measuring 2.74 x 3.2 meters, the giant city took SD3D a total of 6 weeks to complete, including over 200 hours of design work. Based on 2D drawings, the team designed a 3D model of the city using Rhino software. To print the massive miniature model, the city was divided into squares the size of around 23 x 23 cm that align with the roads. Skycsrapers were also sectioned into several parts. A total of 300 quadrants were printed on over a dozen FDM printers, including the Lulzbot TAZ and SD3D's proprietary printers, in over 3,000 hours. Roughly 65 kg PLA filament, mostly white, were used, of which 60 kg remained to be assembled.
Additionally, the team created a 1/3 scaled down version of the Aon city, which was also 3D printed.
The entire model city showed 29 different areas that Aon protects clients, including automotive, construction, energy, environment, financial institutions and others.
Check out the time laps videos below of printing and assembling the city models: