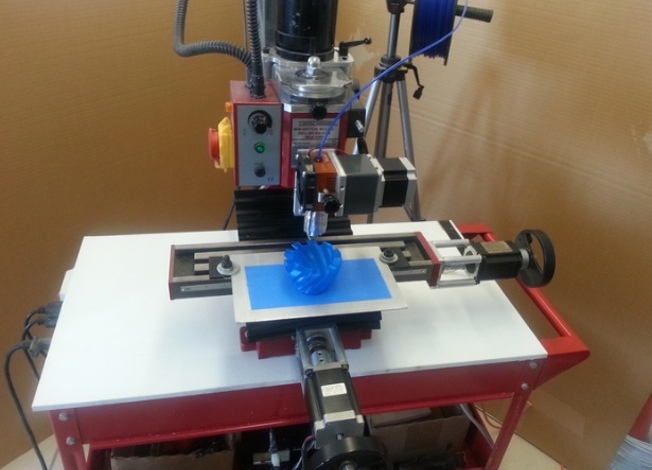 Luminar Products recently launched their 3-in-1 Machine on Kickstarter. TRiBOT is capable of 3D printing, CNC milling and injection molding.
The inventors of TRiBOT wanted to design the "ultimate tool for creators with great ideas who don't have access to the multiple machines, tools and technology needed to bring their ideas to life".  The machine allows users to not only prototype their ideas but to also produce them.
TRiBOT is currently available form $ 4,995 at Kickstarter and includes:
 The Base 130 pound base mill converted to CNC with a www.stirlingsteele.com 3 axis motion control kit
Enhanced 11 x 5 x 11 travel area
3 NEMA 23 steppers
4 axis step and direction controller/driver & DC power supply
0.200 pitch Z axis ball screw
X and Y Lead Screws
Extruder 3D Printer head which includes a 70 oz/in NEMA 23 gear-head stepper motor, Stainless steel feed tube with 1.5 inch tall copper, heater block 100 watt heater cartridge, Thermocouple and cooling fan
Filament injection mold head Includes a 120 oz/in NEMA 23 gear-head stepper motor Stainless steel
feed tube with 4 inch tall aluminum heater block 280 watt heater cartridge Thermocouple and cooling fan
2 PIC digital temperature controllers boxed in an electronic enclosure
3D printing stage plate
Sample pack of 3mm diameter PLA printing filament
Tooling package including: Vise, 6 piece end mill set, collet set, parallel set, 0-1/2" drill chuck, assorted wrenches, T-Nuts, mounting screws, bar clamps and step blocks
Wheeled steel service cart with 2 shelves
Power strip with built in circuit breaker
Desktop computer with Linux OS, Linux CNC, MeshCAM, Slic3r, and FreeCAD 3D drawing software all pre-installed and ready to use.
Computer monitor – key board – mouse – cables
One set of blank aluminum mold plates
---
Subscribe to our Newsletter
3DPResso is a weekly newsletter that links to the most exciting global stories from the 3D printing and additive manufacturing industry.