A team of young London entrepreneurs introduced the allegedly world's first 3D printed Raspberry Pi Laptop.
September 19, 2014: The Pi-Top kit contains materials and components as well as step-by-step instructions on how to 3D print other parts and how to assemble them. The 3D printed shell parts for the prototype are made of PLA filament and were printed within 160 hours on the Rostock Max V2, which is available as self-assembly kit as well.
The Pi-Top runs on Raspbian OS and is equipped with a 13.3″ HD screen, a fully integrated keyboard, a trackpad with extra ports, has a battery life of 6-8 hours and full wifi capability.
You can find instruction on how to build your own Pi-Top on Reddit. The team also hopes to raise funding for further development by soon launching the project on Kickstarter.
October 03, 2014: Update – Pi-Top to be launched on Indiegogo
The Pi-Top Team will launch their 3D printed laptop on the crowd funding platform Indiegogo, not on Kickstarter as originally planned. They also published a picture of the final prototype on their website: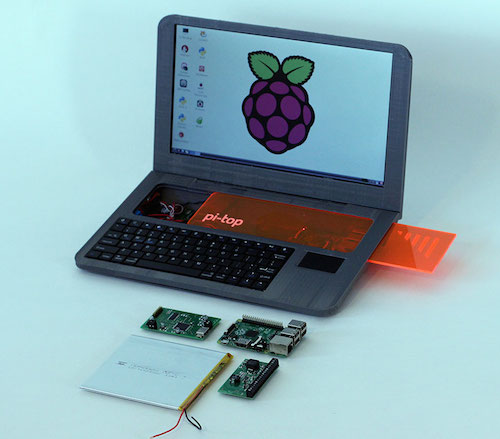 October 14th, 2014: Incredibly successful launch on Indiegogo
The Pi-Top Indiegogo campaign has only started yesterday, however at this point the team has already collected over $ 30,000 of their $ 80,000 funding goal.
Their Super Early Bird Pi-Top Kit is still available for $ 229 excluding shipping.
The full kit includes:
Injection molded case
3D printer STL files compatible for most print bed sizes (5″ x 5″ bed size and up)
PCBs – Power Management, HDMI to LVDS Bridge and Keyboard & Trackpad Controller.
Electronics breadboard
Battery
Keyboard
Trackpad
13.3"HD LCD Screen
Wifi adapter
Acrylic slice
Wiring
DC wall plug
Build instructions
Online & integrated lesson plans
---
Subscribe to our Newsletter
3DPResso is a weekly newsletter that links to the most exciting global stories from the 3D printing and additive manufacturing industry.