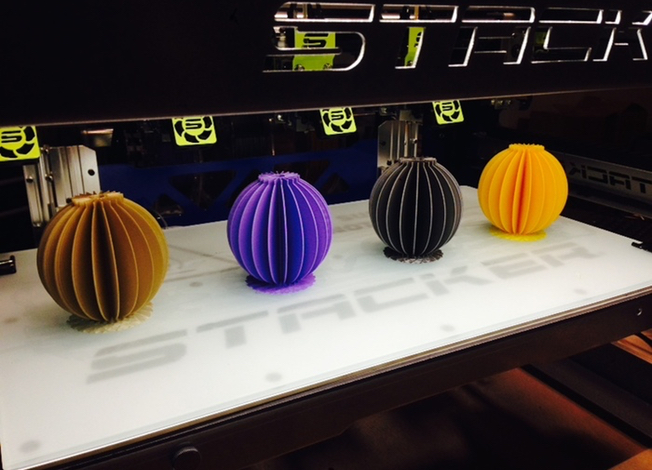 STACKER, an affordable commercial-grade 3D printer featuring four extruders, has just been launched on the crowdfunding platform Kickstarter a couple of days ago and is already beyond its funding goal.
The FDM device can 3D print four objects at the same time, while each part can be up to 24 in (60 cm) tall due to the expandable Z-axis. It is equipped with hybrid hot ends, which are optimised to extrude high tech composite filaments. The universal filament rail was not only designed for easy and fast loading but also holds any filament on the market, so you are not restricted in your choice of material.
With this affordable 4-head desktop printer, Stacker LLC targets professionals, makers, scientists, teachers, entrepreneurs and established business owners. "3D printing is too important a technology for anyone to be left behind. That's why we made STACKER affordable," the company explains.
This slideshow requires JavaScript.
Technical specifications:
Size of printer: 675 mm x 400 mm x 720 mm (WxHxD)
Weight: 30 kg (65 lbs)
Extruder: HYBRID hot end by STACKER, nozzle 0.5 mm, filament 1.75 mm diameter
Max. X/Y print area one head printing: 255mm (10″)  x 458mm (18″)
Max. X/Y print area two heads printing: 255mm (10″) x 220mm (8.7″)
Max. X/Y print area three heads printing: 255mm (10″) x 138mm (5.46″)
Max. X/Y print area four heads printing: 255mm (10″) x 100mm (3.9″)
Max. Z height print area: 220mm (8.75″) or 600mm (24″) with Z-height extender option (double stack)
Max temperature: 300°C
Layer resolution: 0.1mm to 1 mm or 100 micron to 1000 microns
Print speed: 10 to 150 mm/s
Build plate: tempered glass, removeable
Software: custom STACKER version of Repetier and Cura, Slic3r, Pronterface, Simplify3d
Supporte file types: STL, OBJ, AMF
Operating Systems: Windows 32/64 Bit Vista/7/8, Mac OS X 10.6+, Linux 32/64 Bit (Ubuntu 12.04+)
Prices for the STACKER start at $ 3,995 for early birds and shipments are to start in May 2015.
---
Subscribe to our Newsletter
3DPResso is a weekly newsletter that links to the most exciting global stories from the 3D printing and additive manufacturing industry.