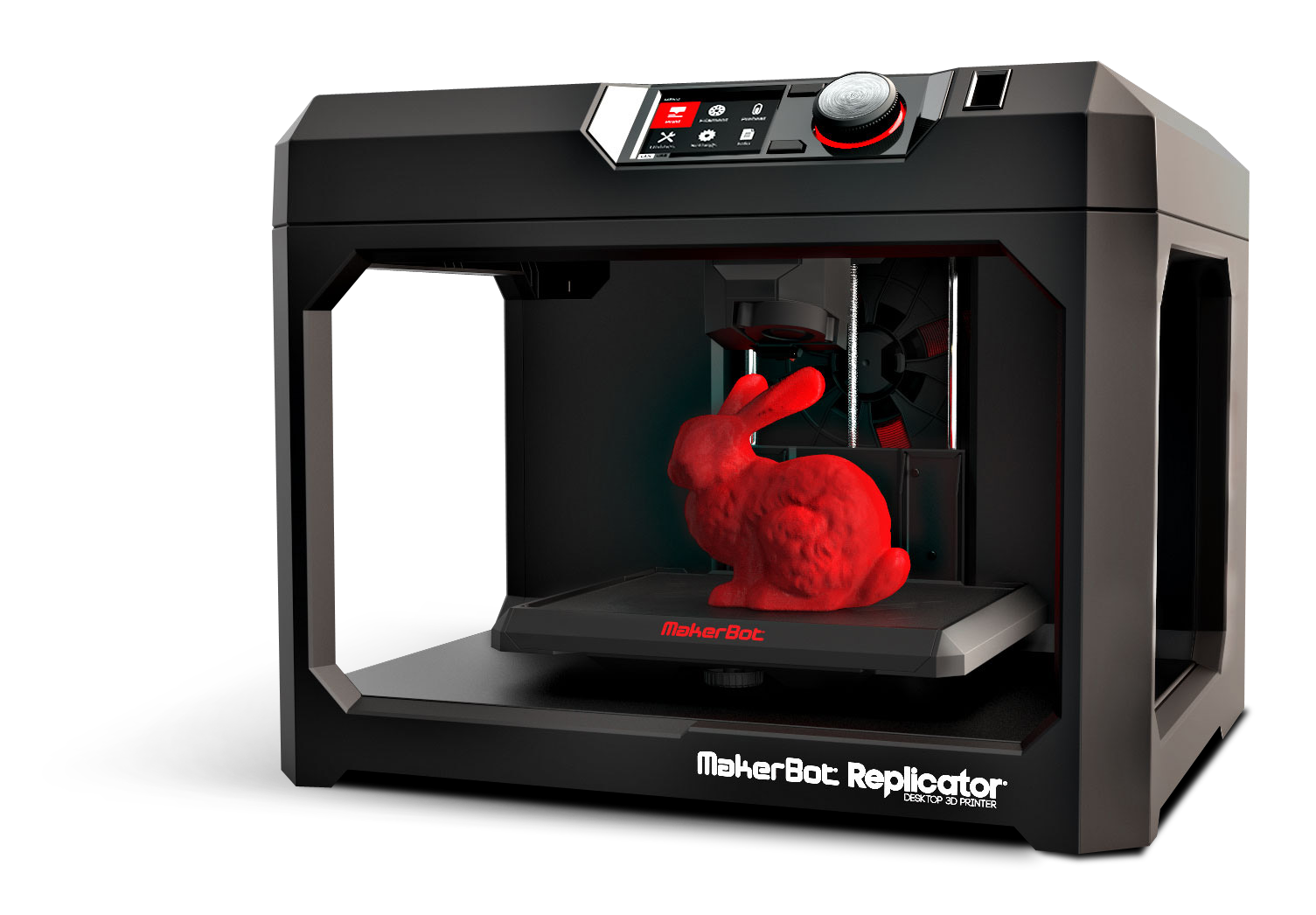 3D printer manufacturer MakerBot proudly announced that its Replicator desktop 3D printer (5th generation model) was awarded the prestigious Red Dot Award: Product Design 2015.
MakerBot believes in clean, consolidated product design that maximises user accessibility, and the sleek and high performance MakerBot Replicator represents the latest iteration of these goals. The fifth generation Replicator provides the easiest and most versatile way to get from 3D model to 3D print. It joins the ranks of other Red Dot winners such as the Apple iPhone (2008) and the BMW i8 (2014).
The MakerBot Replicator Desktop 3D Printer was among the winners selected from nearly 5,000 entries by an international jury of the Red Dot Award. "This 3D printer features an inspiring, open design. Its clean aesthetics blend perfectly into professional and educational environments, as well as the home," stated the Red Dot jury. MakerBot industrial designers Jackson Seidenberg and Vishnu Anantha and the engineering and product teams who they collaborate with are honored to receive this sought-after prize, which recognizes projects whosesuperior designs set them apart from comparable products. "To date, nobody has applied real design to 3D printers," said MakerBot director of industrial design Mark Palmer. "Many companies focus simply on the mechanical and electrical components, and neglect the design considerations that build an emotional connection with the printer and a seamless user experience. The MakerBot Replicator, with its design recognition, stands out from other printers as being more than just a collection of components."
When designing new products, MakerBot focuses on ease of use and how the product fits into peoples' lives. "We wanted to create a desktop 3D printer that was friendly, accessible and invites individuals, whether a 5th grader or a professional engineer, to engage and quickly turn an idea into a physical object," said Yuri Salnikoff, Chief Marketing Officer of MakerBot. "The MakerBot Replicator provides direct access in the work area and empowers educators, designer and engineers to unleash their creativity." The MakerBot Replicator features a 3.5″ display for functions, print status, and advanced features, and a rotary knob as the selector. Palmer explained that there are "strong cues in the printer itself that tell you how to interact with it," citing the knob as "the focal point."
The Red Dot Award was created in 1954 to recognize products with the highest quality of design. A panel of leading design experts convenes every year to evaluate products based on specific criteria: from physical characteristics such as durability, functionality, ergonomics, ecological compatibility, and formal quality to abstract traits such as innovation, symbolic and emotional content, product periphery, and self-explanatory quality. These latter criteria consider the way users interact with the product and the emotions they invoke. The international Red Dot jury bestows the sought-after seal of quality only to products that stand out thanks to their excellent design.
---
Subscribe to our Newsletter
3DPResso is a weekly newsletter that links to the most exciting global stories from the 3D printing and additive manufacturing industry.